---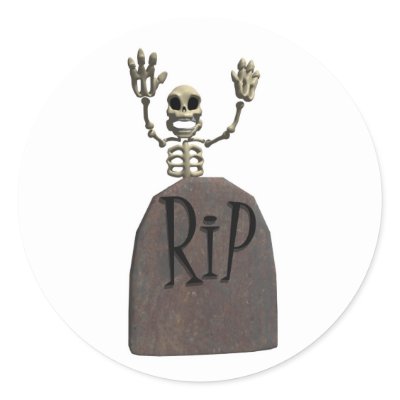 ---
Fascinating TOMBSTONE quotes
---
Sir John Strange; Here lies an honest lawyer, And that is Strange.
---
— Tombstone in England I was somebody. Who, is no business Of yours.
---
— Vermont As the flowers are all made sweeter by the sunshine and the dew, So this old world is made brighter by the lives Of folks like you.
---
— Bonnie Parker (Bonnie and Clyde) Here lies Lester Moore; Four slugs from a .44; No Les No More.
---
— Tombstone Arizona John Brown is filling his last cavity. — Dentist's Tombstone I told you that I was sick!
---
— Georgia Cemetary, USA Here lies the body of Jonathan Blake; Stepped on the gas instead of the brake.
---
— Pennsylvania Tombstone, USA Remember man, as you walk by, As you are now, so once was I, As I am now, so shall you be, Remember this and follow me.
---
— Tombstone in England To follow you I'll not consent, Until I know which way you went.
---
— Written on the tombstone in reply to one above The children of Israel wanted bread, And the Lord sent them manna, Old clerk Wallace wanted a wife, And the Devil sent him Anna.
---
— England Tombstone Under the sod and under the trees, Lies the body of Jonathan Pease. He is not here, there's only the pod; Pease shelled out and went to God.
---
— Massachusetts Tombstone Gone away, Owin' more than he could pay.
---
— England Alien tears will fill for him; Pity's long-broken ern. For his mourners will be outcast men, And outcasts always mourn. — Oscar Wilde's Tombstone
---
Here is a complete list of Walt Disney's Haunted Mansion tombstones, and in some cases, which Imagineer they reference to.
---
---
RIP GOOD FRIEND GORDON now you've crossed the river jordan
---
RIP in memorium uncle myall HERE YOU'LL REST FOR QUITE A WHILE (Chuck Myall – Art Director)
---
REST IN PEACE COUSIN HUET we all know you didn't do it
---
HERE RESTS WATHEL R. BENDER he rode to glory on a fender (Wathel Rodgers – illusionist, mechanical genius)
---
HERE LIES GOOD OLD FRED a great big rock fell on his head
---
AT PEACEFUL REST LIES BROTHER CLAUDE planted here beneath this sod (Claude Coates – Art Director, Master of Paint Effects and Lighting)
---
RIP MR. SEWELL the victim of a dirty duel (Ted(?) Sewell – Engineer/Draughtsman(?))
---
IN MEMORY OF OUR PATRIARCH dear departed grandpa marc (Marc Davis illustrator, idea man, funniest Imagineer)
---
REQUIESCAT FRANCIS XAVIER no time off for good behavior RIP (Xavier Atencio – scriptwriter, and lyricist, Grim Grinning Ghosts
---
DEAR DEPARTED BROTHER DAVE he chased a bear into a cave
---
MASTER GRACEY LAID TO REST no mourning please at his request (Yale Gracey – illusionist)
---
HERE LIES A MAN NAMED MARTIN the lights went out on this old spartan (Bill Martin – Art Director)
---
Disneyland Haunted Mansion
Pet Cemetery

---
<bat> FREDDIE the Bat 1847
---
<upside down> We'll Miss You
---
<frog> OLD FLYBAIT He Croaked August 9 1869
---
<pig> ROSIE She was a poor little Pig but she bought the Farm 1849
---
<dog> BUDDY OUR FRIEND UNTIL THE END
---
<skunk> Beloved Lilac Long on Curiosity… Short on Common Scents  m1847 There is a cat surrounded by little mouse grave markers. One that says "Fi Fi"
---
Those below are found on the red brick wall:-
---
<rat> In Memory My Rat Whom I Loved Now He Resides in the Realms Up Above
---
<spider> Here lies Long Legged Jeb Got tangled up in his very own web
---
<fish> October 10 1867
---
<snake>(long snakey grave marker) Here lies my snake who's fatal mistake was frightening the gardener who carried a rake
---
<eagle?> July 11 1864
---
Over on the wall near the railroad:-
Theo Later
---
U.R. Gone
---
Ray N. Carnation
---
Dustin T. Dust
---
Lev Itation
---
G.I. Miss You
---
I Trudy Departed
---
Rust in Peece
---
I.L. Beback
---
M.T. Tomb
---
"Moral excellence comes about as a result of habit. We become just by doing just acts, temperate by doing temperate acts, brave by doing brave  acts." ~Aristotle
---
---